Ice Cave/ Bivy
Versatility in a deluxe package
Whether you are looking for a great little camp trailer, a work or utility trailer, a hunting rig
or an ice fishing hut that will be the envy of the lake, this little guy will fill your needs. With its
short ride height and light weight design, it can be towed easily by the smallest of vehicles. When opened
, you can experience over 7 1/2 feet ceiling height to stand up and move about in. Even when closed it is fully
functional trailer. It can be upgraded to have a kitchenette, seating, even a bunk.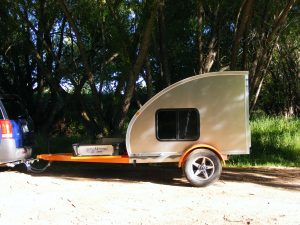 Flexible for Your Needs
SOME OF OUR MORE COMMON UPGRADES INCLUDE:
7′ wide X 7′ high model available.
2 coat powder coating finishes like candy colors and textures.
15″ and larger aluminum sport wheels.
Black walnut, oak, rustic hickory, knotty pine, or marine grade paneling.
Upgrade push-on flush mounted marine grade cabin lights or outdoor lighting.
4′ and 5′ heavy duty cargo deck for 4 wheelers or side by sides.
12 volt deep cycle marine battery and box.
Chuckwagon style rotating kitchenette.
Bench seating, table, and bunk available.
Cushions and curtains.
BASE MODEL STARTS AT $12,995.00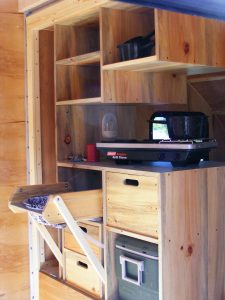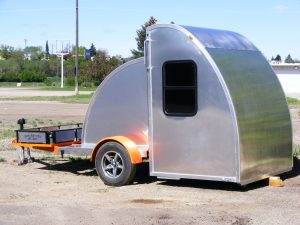 Dynamic Designs to Boost your Fun
This could be the most versatile trailer on the market. when the top is tipped back, the floor height from the
ground is only 6″. Load the stationary compartment with your tools and add a door to both sides, you have a work
station you can walk through. Leave the back door open when you tilt the structure back and it works well for ice
fishing. With a small ramp, it can be easily accessed with a wheel chair.
THE 6′ WIDE BASE MODEL FEATURES INCLUDE:
2″X4″ and 2″X2″ box tubing steel frame.
Single application powder coat finish.
.050 heavy gauge side, rear wall and floorpan aluminum. .063 aluminum tread plate rock guard.
3500# axle.
15″ base package wheels with 6 ply trailer spec radial tires.
2″X2″X.125″ aluminum tube structural framing.
Structural engineered panel construction is superior to traditional building methods.
Polystyrene and polyethylene insulation throughout, R value 3 for walls, 4 for roof, and 7 1/2 for the floor.
Meranti paneling trimmed in real hemlock and pine. NO PRINTED PANELING.
All LED lighting.
1150 pound total weight, 100 pound tongue weight.
Constructed using 3M marine adhesive sealants and VHB tapes to eliminate leaks and rot.
12 volt 35ah deep cycle AGM battery and box.
Dual 12 volt socket and USB charger.
3′ X 6′ exterior cargo tray with cedar decking.
The Ice Cave model is set up for ice fishing as well as camping, the Bivy is strictly for camping.